Key Takeaways:
Adding a mattress topper is an effective way to make a firm mattress plush. It provides an extra layer of comfort and can help relieve pressure points.
Breaking in a new mattress can also make it feel plusher over time. Give it a few weeks to allow the materials to soften and adapt to your body.
Adjusting the foundation or bed frame can make a difference in the comfort level of your mattress. Adding a slatted base or using a box spring can help create a softer feel.
Managing temperature is important when trying to make a firm mattress plush. Using temperature-regulating bedding or a mattress pad can help create a more comfortable sleep surface.
If the above options don't provide the desired level of plushness, consider alternative options such as using a mattress topper or investing in a new mattress with a softer feel.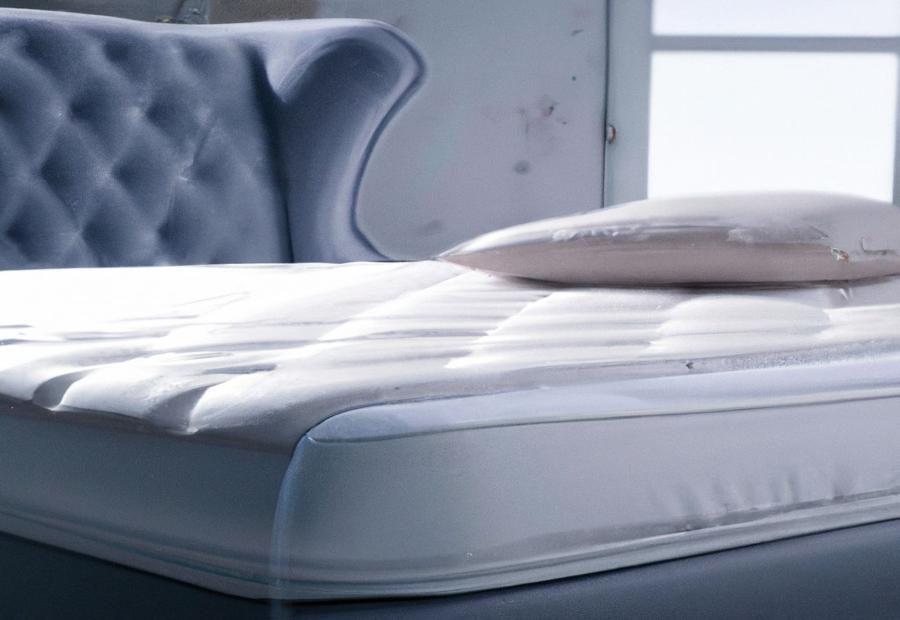 Photo Credits: Www.Mattressreviewguru.Com by Steven Torres
A firm mattress supports the body well and many people prefer it. But, some want a softer surface. Here's how to make a firm mattress plush.
Use mattress toppers. They are extra padding put on top of a mattress. They come in memory foam or latex. This can make a firm mattress more cushioned. Mattress pads also add a layer of softness.

Pillow tops or Euro tops can also make a firm mattress plush. They attach directly to the mattress. Pillow tops use softer materials like down or foam. Euro tops have an extra layer of padding.

Also, adjust bedding accessories. Use high-quality, soft sheets. Add extra blankets or duvets. Try different types of pillows, like down or plush-filled.
Understanding mattress firmness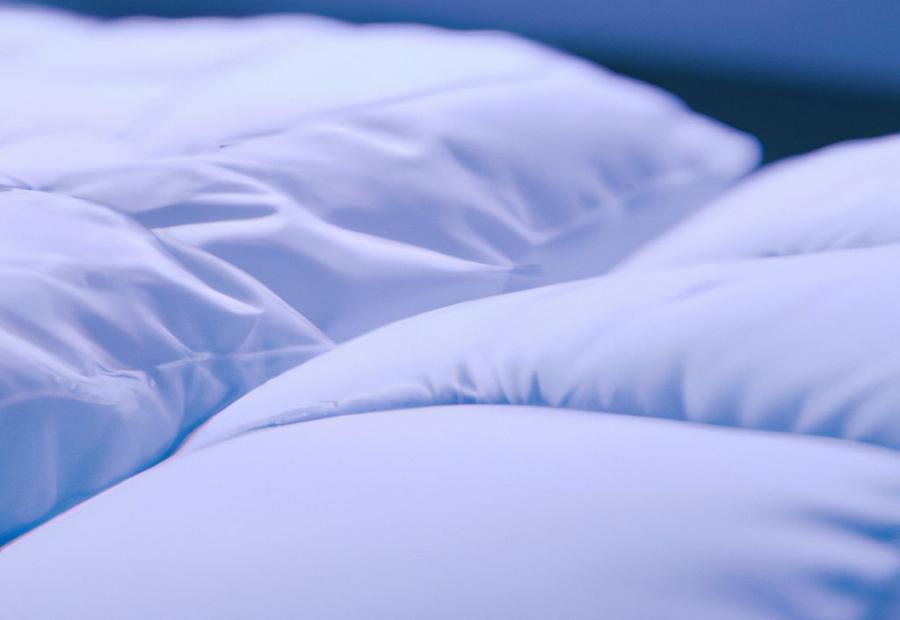 Photo Credits: Www.Mattressreviewguru.Com by Ryan Taylor
To understand mattress firmness, certain factors must be considered. These include:
Material composition: The materials used can greatly affect firmness. Memory foam mattresses offer a contouring and plush feel, while latex mattresses are more responsive and buoyant. Innerspring mattresses tend to be firmer due to coil support systems.
Support and comfort layers: Thicker comfort layers, such as additional foam or padding, often provide a softer feel.
Personal preferences: Body weight, sleeping position, and sleep needs influence the ideal firmness level.
Testing and research: Testing different mattresses and reading customer reviews can help identify the perfect mattress. Mattress toppers can be added to adjust firmness, if necessary.
It is important to note that mattress firmness also affects spinal alignment and pressure point relief. A too-firm mattress may not contour to the body's curves and a too-soft mattress may not provide enough support. Amy, a forty-year-old woman, experienced this firsthand. After thorough research and testing, she found a medium-firm mattress with a combination of supportive layers and cushioning comfort. This allowed her spine to stay aligned while relieving pressure points, thus leading to restful and pain-free sleep.
In summary, understanding mattress firmness involves considering various factors, such as material composition, support and comfort layers, personal preferences, and conducting proper testing and research. It can lead to improved sleep quality, spinal alignment, and pressure point relief.
Tips to make a firm mattress plush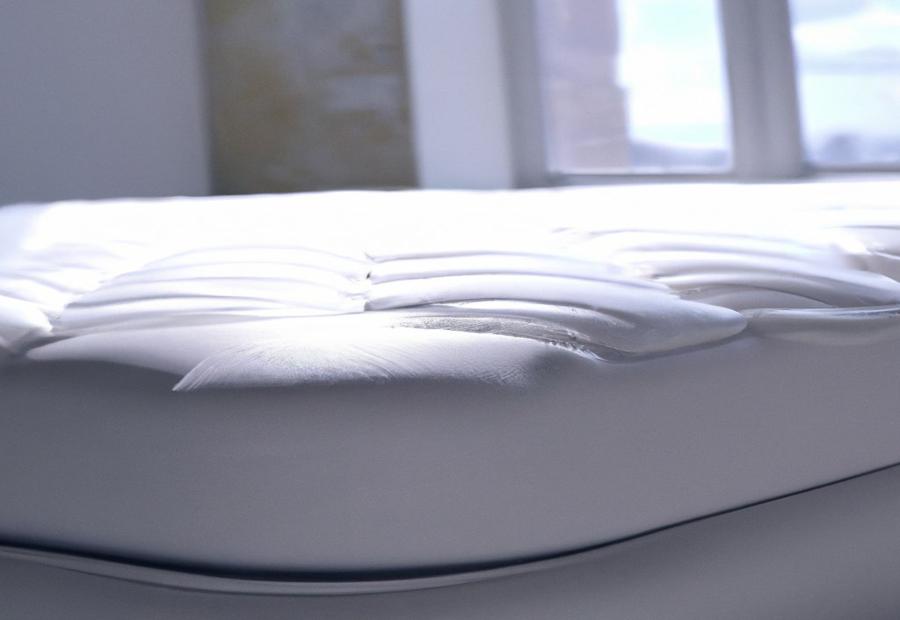 Photo Credits: Www.Mattressreviewguru.Com by Albert Campbell
Transform your firm mattress into a plush oasis with these expert tips. Discover the secrets to creating a luxuriously comfortable sleep surface by exploring the art of adding a mattress topper, breaking in a new mattress, adjusting the foundation or bed frame, managing temperature, and exploring alternative options. Improve your sleep quality and wake up feeling rejuvenated with these simple yet effective techniques.
Adding a mattress topper
Use a mattress topper to add softness and cushion to your bed. It'll help relieve pressure points and make sleeping more comfortable. Plus, there are many types to choose from – like memory foam, latex, or down. A topper is a great way to adjust your mattress's firmness without buying a new one. Best of all, it's a cost-effective solution. Give your mattress a chance to break in. Just like relationships, it takes patience to find the perfect comfort level.
Breaking in a new mattress
Jessica bought a firm mattress but felt it uncomfortable when she first tried. She wanted to make the best of her investment, so followed online tips. She got a topper made of memory foam or latex. This extra layer gave her more cushioning and softer surface. She also adjusted the bed frame or foundation. She experimented with different positions, optimizing the feel. Temperature also affects a mattress. Warm climates make it softer, cooler temperatures can make it firmer. To make it more plush, she used cooling techs like breathable sheets, mattress protectors, or cooling pads. Additionally, she used body pillows for added support and comfort. Plus, softer bedding like microfiber sheets or down-filled comforters. After all that, Jessica's mattress became much more plush. Now, she enjoys a restful sleep on her perfectly broken-in mattress.
Adjusting the foundation or bed frame
Adjusting your foundation or bed frame is essential for getting the desired plushness from a firm mattress. Here's a 3-step guide to make it happen:
Evaluate: Look at your existing setup for signs of damage, such as sagging or broken slats. Be sure to have a solid base for optimal support.
Adjust the support level: If you want more cushioning, add foam padding or a soft material. If it's too soft, take away cushioning.
Explore adjustable options: Choose an adjustable base for customized support and comfort. You can raise your head or feet to get the perfect sleeping position.
To find the right balance, think about individual needs and preferences. You can also look for features like massage or storage. Historically, people have been adjusting their bed frames for centuries. Thanks to modern technology and design, there are even more options for customizing your sleep setup.
Managing temperature
Bedding materials with breathability and moisture-wicking properties help manage temperature and prevent overheating. Adjustable bed bases or foundations with built-in cooling systems provide relief from excessive heat. Investing in a mattress made of natural materials like latex or organic cotton enhances airflow and reduces heat retention. Utilizing cooling accessories like gel-infused mattress toppers or cooling pads offers additional temperature control.
These methods let you manage the temperature effectively, making a cozy and comfortable sleeping experience.
To keep your mattress feeling plush, it's also important to maintain an appropriate room temperature. Keeping the bedroom at a moderate temperature helps prevent excessive heat or coldness that affects sleep quality.
Take Sarah, for example. She had trouble with her firm mattress feeling too hot during summer nights. So, she invested in a breathable mattress topper with cooling gel beads. This simple addition gave her comfort and regulated her body temperature, resulting in improved sleep quality. Sarah's story shows how managing temperature makes a big difference in creating a plush and enjoyable sleeping surface on a firm mattress.
Alternative options
If you'd like to make your firm mattress more plush, there are several alternative options you can explore. Memory foam mattresses are renowned for their contouring abilities and extra cushioning. Another option is a latex mattress, which is both plush and supportive. An adjustable bed base can also be a great choice, as it allows you to adjust the angle of your bed for customizable comfort. Hybrid mattresses are a great combination of materials, such as memory foam and innerspring coils, that provide both support and a plush feel. Lastly, mattress toppers come in different thicknesses and materials such as down or memory foam, so you can customize the softness of your bed. Everyone's preferences are different, so it may be beneficial to test out different options before making a decision. You can also consult knowledgeable sales associates and read reviews to get insight into which option is best for you.
Conclusion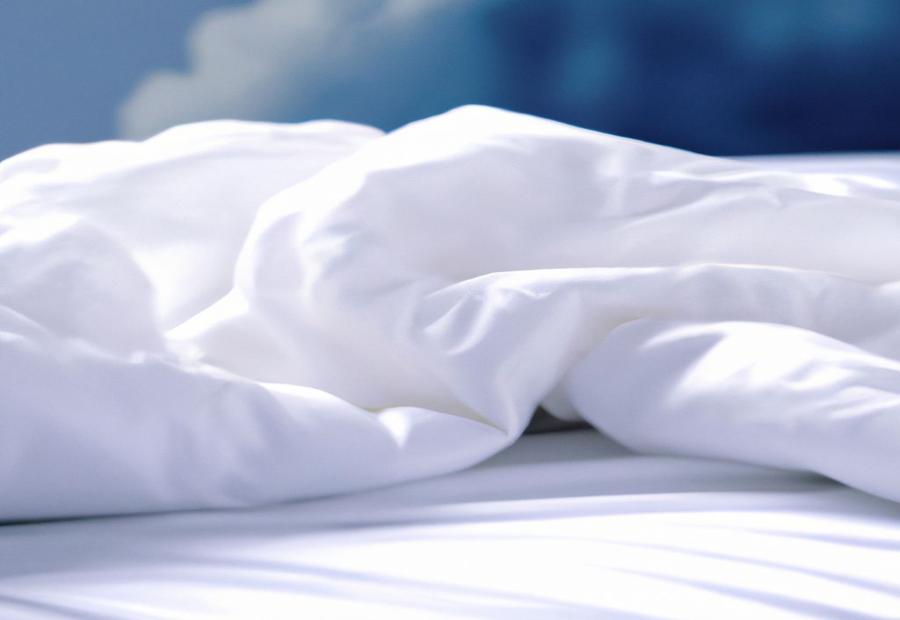 Photo Credits: Www.Mattressreviewguru.Com by Thomas King
Making a firm mattress plush is an achievable goal. Utilize materials, such as mattress toppers, memory foam layers, and adjustable bases, to customize the level of support. Also, maintain a proper sleep environment with high-quality bedding, like sheets and pillows. Lastly, rotate and flip the mattress regularly. Research has proven that plush mattresses lead to higher levels of satisfaction and comfort during sleep.
Some Facts About How to Make a Firm Mattress Plush:
✅ Adding a soft mattress topper can change the feel of a firm mattress without replacing the entire mattress. (Source: Team Research)
✅ Look for plush or down-filled mattress toppers to make a firm mattress feel softer. (Source: Team Research)
✅ Memory foam mattress toppers can also help soften a mattress if it is too firm. (Source: Team Research)
✅ Using a box spring for support can make a memory foam mattress feel softer. (Source: Team Research)
✅ Cooling the bedroom at night can make a memory foam mattress feel firmer, so consider warming up the room to make it feel softer. (Source: Team Research)
FAQs about How To Make A Firm Mattress Plush
How can I make a firm mattress more plush?
To make a firm mattress feel softer, you can try adding a soft mattress topper made of materials like memory foam or down alternative. These toppers can significantly change the feel of your bed without having to replace the entire mattress.
Does body heat affect the firmness of a mattress?
Yes, body heat can affect the firmness of a mattress, especially memory foam. Sleeping in a warm room can make a memory foam mattress feel softer, while sleeping in a cold room can make it harder. So adjusting the temperature in your bedroom can impact the feel of your mattress.
How long does it take to break in a new mattress?
Experts recommend breaking in a new mattress for at least 30 days before deciding to replace it. You can expedite the breaking-in process by sleeping on the mattress night after night and even walking or crawling on it daily.
What types of mattresses can be made softer?
Various types of mattresses can be made softer depending on the foundation and materials available. Innerspring beds can benefit from adding a box spring for a softer feel, while memory foam mattresses can be made softer by using a warmer room or adding a mattress topper made of memory foam or latex.
Are there inexpensive options to make a bed softer?
Yes, there are affordable ways to make a firm mattress softer. Adding a mattress topper made of down alternative or other soft materials can be a cost-effective solution. Additionally, rotating or flipping the mattress and replacing old, saggy layers with fresh ones can help improve the comfort.
Do mattress brands offer trial periods and return policies?
Yes, many mattress brands offer sleep trial periods and generous return policies. It's important to check the trial period for the mattress and follow the return process accordingly. This allows you to test the products and ensure the mattress meets your desired plushness before making a final decision.