Key Takeaways:
Visual inspection, hand testing, listening for escaping air, and using the soapy water method are effective ways to find a leak in an air mattress.
Submersion method can also be used to identify air bubbles indicating the location of the leak.
Checking seals and caps is important in locating leaks and maintaining the air mattress.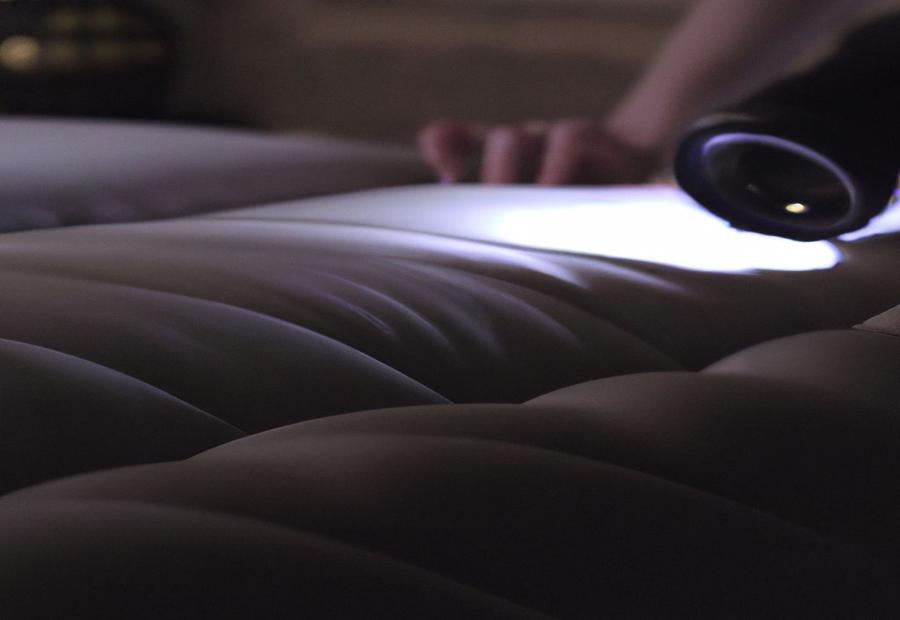 Photo Credits: Www.Mattressreviewguru.Com by Paul Mitchell
Discover effective methods for finding and fixing leaks in your air mattress, along with tips for preventing future leaks. We'll explore practical techniques that can save you from a sleepless night and ensure your air mattress remains durable and reliable. With these valuable insights, you can avoid the frustration of waking up to a deflated mattress and enjoy a refreshing night's sleep wherever you go.
Methods to Find a Leak in an Air Mattress
Leaking air mattresses? Frustrating! But there are ways to find the source. Visual inspection, the hand test, listening for air, and the soapy water method can help.
Visual inspection: Carefully look for visible holes or punctures.
Hand test: Run your hand over the surface while applying slight pressure. Feel for any changes in firmness or areas where air seems to escape.
Listening for air: Inflate the mattress and hold close to your ear. Move it around and listen for any hissing sounds.
Soapy water method: Make a mixture of soapy water and apply with a sponge or spray bottle. Look for small bubbles that indicate a leak.
Submersion test: Put the inflated mattress in a container of water and watch for air bubbles. This method is good for finding tiny leaks.
In addition, check seals and caps. Tighten or secure them if needed.
Fix leaks promptly for a comfy sleep. Deflate and dry the mattress before patching. Patch kits are common and effective, but duct tape or silicone adhesive can also be used. Ensure proper adhesion and let it dry for the repair to work.
Prevent leaks by avoiding overinflation and clearing sharp objects that could puncture. Put bedding between the mattress and any rough surfaces.
Pro Tip: Combine multiple methods for more accurate results.
Visual Inspection
Visually inspecting an air mattress is essential to identify any leaks. To do this properly, ensure the mattress is fully inflated and stable. Then, look for any tears, holes, or other damage on the surface. Be sure to inspect seams, corners, and other areas with more stress on the material. If there's anything suspicious, mark it with a pen.
It's important to note, though, that visual inspections may not always detect small or hidden leaks. Additional methods like the hand test, listening for escaping air, the soapy water method, and the submersion method should be used for a thorough assessment.
Doing regular visual inspections helps you find and fix leaks before they worsen. This is important because comfortable sleep affects overall health and well-being. Looking after your air mattress is essential.
The Hand Test
Step 1: Partially deflate your mattress. This makes it simpler to move and check for small air escapes.
Step 2: Move your hand along the mattress, applying gentle pressure. Pay attention for any spots with a weak stream of air against your hand. This indicates a possible leak.
Step 3: When you find a potential leak, mark the area with a marker or tape. This'll help you easily find it later when you're ready to fix it.
The Hand Test helps you quickly identify air mattress leaks. It lets you locate areas of worry, so you can fix them fast and get a comfy night's sleep.
Listening for Escaping Air
Detecting a leak in an air mattress? Listen for escaping air! Pay attention to any hissing or whistling noises to pinpoint the location of the leak.
Here's a 6-step guide:
Fully inflate the mattress.
Find a quiet spot.
Move your ear to different parts of the surface.
Listen out for any faint hisses or whistles.
Note the area where you hear it most clearly.
Repeat this in different parts of the mattress.
Other Unique Details:
Visual inspection and soapy water can also detect leaks.
Listening for escaping air is great for locating small leaks that may not be easily visible.
Use noise-canceling headphones or earmuffs for better accuracy.
Oh, and don't worry – the soapy water won't make your air mattress into a bubble bath!
Soapy Water Method
The Soapy Water Method is great for finding air mattress leaks. Here's how to do it:
Create a water and liquid soap mixture in a spray bottle.
Spray the mixture onto the mattress.
Look for bubbles, which means air is escaping.
Press on the mattress and check for bubbles.
If the leak is too small, listen for a hissing or whistling sound.
Once a leak is found, deflate and dry the mattress before fixing the hole.
This method only requires minimal tools and can be done at home or while camping. For accurate results, apply enough pressure to different parts. Visual inspection and listening for escaping air are other methods, but the Soapy Water Method is reliable and practical. By detecting leaks, you can take action to fix them for a comfy sleep and a longer mattress life.
Submersion Method
The submersion method is an ideal way to locate air mattress leaks. Prepare the mattress and fill a tub with water.
Submerge the air mattress in the water to detect any escaping air bubbles.
Deflate and dry the mattress first.
Place it into the tub filled with water and ensure it is fully submerged.
Watch for air bubbles. These indicate a leak.
Monitor and inspect areas where bubbles appear to pinpoint the exact location of the leak.
This submersion method offers a reliable way of detecting mattress leaks. It examines the entire surface area of the mattress and helps to identify unnoticed leaks.
By using the submersion method, individuals can detect and locate leaks in their air mattresses. This allows them to take proper measures to fix and maintain their mattresses for maximum comfort during use.
Other Methods
If the visual inspection or hand test don't show any leaks, other methods can be useful. Create a table with columns for each method and its description – a good way to compare different approaches. One special one is to check seals and caps. Inspect the seams and valves of the air mattress and fix any loose or damaged seals.
Don't miss out on potential leaks. Consider these other methods as well as the ones before. Use a combination of techniques to find and fix any air mattress leaks and guarantee a comfortable sleep. Take proactive measures now and avoid discomfort later.
| Method | Description |
| --- | --- |
| Visual inspection | Look for any visible signs of leaks such as holes, punctures, or tears. |
| Hand test | Run your hands over the surface of the mattress, feeling for any air escaping. |
| Check seals and caps | Inspect the seams and valves of the air mattress, tightening any loose seals or replacing damaged ones. |
Use a combination of these techniques to thoroughly inspect and repair any air mattress leaks, ensuring a comfortable and uninterrupted sleep.
Take proactive measures now to identify and address leaks, and avoid discomfort later.
Checking seals and caps
Check seals and caps for damage or signs of wear and tear. Look for cracks or gaps around the edges. Ensure the cap is tightly secured. To detect a leak, listen for escaping air when gently pressing down on the mattress. If you hear a hissing sound, it could mean a leak. Apply soapy water to the seals and caps and watch for bubbles – these are a sign of a leak.
Additionally, check alignment and tightness of seals and caps regularly. This will help to prevent potential leaks and guarantee a successful air mattress experience! Fixing a leak? Duct tape comes to the rescue.
Fixing a Leak in an Air Mattress
Sarah was an avid camper who had a leaky air mattress. She had to fix it! She followed three steps:
Deflated and dried the mattress.
Used a patch kit to cover the hole or tear.
Ensured secure adhesion and enough drying time.
To prevent future leaks, Sarah avoided overinflating, kept her surroundings free of sharp objects, and used bedding as a protective layer between the mattress and any rough surfaces. In the end, she was able to fix her air mattress and enjoy a peaceful night's rest on her camping trip!
Deflating and drying the mattress
To talk about the steps in deflating and drying an air mattress, we'll look at 'Deflating and Drying the Mattress'.
Firstly, deflation is necessary. Open the valve and press on the mattress gently to get rid of any air left. It's important to get all the air out, as trapped air can prevent repairs.
After that, dry the mattress. Use a clean cloth or towel on both sides of the mattress to absorb moisture.
Then, let the mattress sit in a well-ventilated area. This will help any remaining moisture evaporate. Don't rush this step, as applying patches or adhesive too soon can lead to weak adhesion.
These steps ensure the mattress is properly deflated and dried before repairing any leaks. Proper preparation of deflation and drying is key for successful and long-lasting repairs on an air mattress. Taking care during these steps will ensure maximum comfort when sleeping or relaxing.
Note that details on patch kits or alternatives have already been covered in section 1.2 "Patching the Hole".
Patching the hole
Deflate and dry the mattress completely before patching. Use a patch kit if available. Alternatives such as sealant or strong adhesive tape can also be used for smaller holes. Press down firmly on the patch to ensure good contact between the patch and the mattress surface. Allow enough time for the adhesive or sealant to dry before reinflating. Adhesion techniques must be followed for successful repairs. Patch kits are the superheroes of air mattress repairs, sealing up holes with ease!
Tips for Preventing Air Mattress Leaks
To stop air mattress leaks, follow these tips:
Don't overinflate: Excessive air pressure can tear the seams, increasing the chance of a leak.
Check the surroundings: Look out for sharp objects near your mattress—they could puncture it!
Protect with bedding: Put a layer of bedding between the sleeper and the mattress to guard against damage.
Also, check seals or caps around valves and openings to make sure they are secure. This will help maintain air retention. By following these steps, you can reduce the risk of an air mattress leak and sleep better! So, don't let your air mattress leak – don't overinflate your ego either!
Avoiding overinflation
To stop overinflating, follow the manufacturer's guidelines for the specific model. This usually includes a PSI (pounds per square inch) rating which must not be exceeded. Consider using an electric/manual pump with pressure control settings to regulate the inflation process accurately.
Check the firmness of the mattress periodically. Press down on different areas to find out if it's too firm or overinflated. If yes, release some air to prevent leaks.
These methods can help keep your air mattress durable and perform better. Get a good night's sleep without worrying about damaging leaks or weakened seams. Just remember–don't let your air mattress become a bed of nails!
Clearing the surroundings of sharp objects
To protect your air mattress and avoid sharp objects, here are 6 steps to take:
Clear debris: Start by removing rocks, sticks or twigs from the mattress area. These can puncture it while sleeping.
Check for sharp edges: Check for broken glass or metal pieces. Collect and discard carefully to avoid damage.
Designate a space: Choose an area free of any sharp objects like branches or rough terrain.
Place a protective layer: Put a tarp or groundsheet under the mattress. That added barrier helps against sharp objects.
Maintain cleanliness: Sweep away dirt, dust or pebbles that collect around the mattress.
Careful placement: Avoid placing the mattress by thorny bushes or rocky terrain.
Following these steps can help prevent leaks and ensure a good night's sleep. Additionally, maintaining and inspecting the mattress, avoiding overinflation, and checking seals and caps are also important to keep it in good condition for longer. Taking these precautions will make camping or outdoor sleeping a pleasant experience.
Using bedding as a protective layer
Using bedding as a safeguard on your air mattress can add a layer of protection and comfort. It absorbs pressure and reduces impact from sharp objects. Sheets, blankets, or toppers create a smooth surface, reducing friction that could puncture it. Thicker bedding materials offer more defence against tears and punctures. High quality bedding made of durable fabrics enhances strength and longevity. Inspecting bedding for signs of wear, like fraying edges or loose threads, can help identify potential risks and replace them before they harm the air mattress.
Conclusion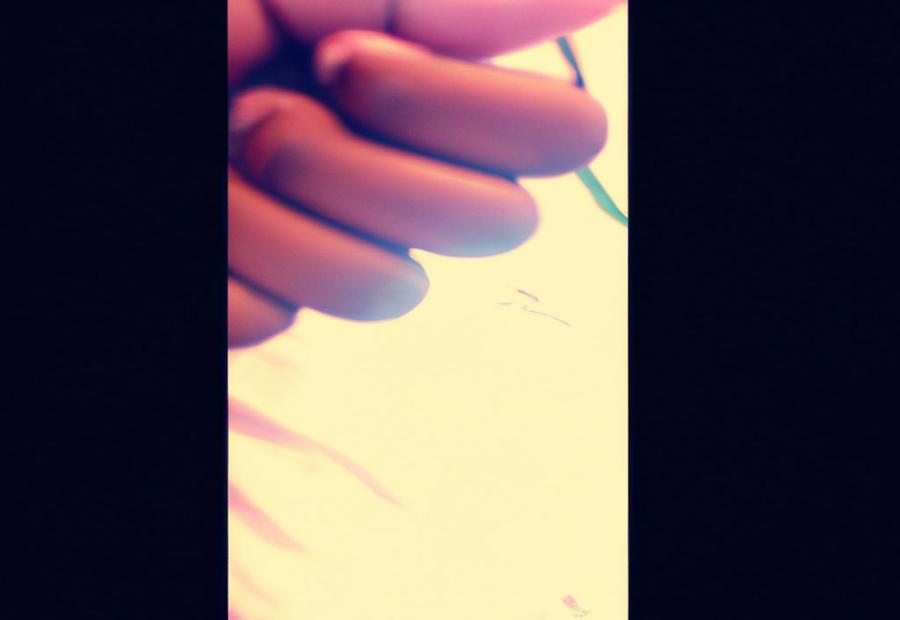 Photo Credits: Www.Mattressreviewguru.Com by Jonathan Smith
Finding and fixing leaks in an air mattress is crucial for a comfortable sleep and hassle-free camping trips. Discover the importance of addressing leaks to ensure a restful night's sleep, and explore recommended options that can enhance your sleeping experience while camping. With these insights, you'll be well-equipped to enjoy your outdoor adventures without any deflating surprises.
Importance of finding and fixing leaks for a comfortable sleep
Finding and fixing air mattress leaks is key to a good sleep. Leaks can cause deflation, making sleep uncomfortable. So, it's essential to spot and repair any leaks fast.
There are methods to find a leak. Visual inspection looks for visible holes or punctures. The hand test is running your hand over the inflated mattress, feeling for air escaping. You can also listen for air hissing out. The soapy water method spots leaks with bubbles. And the submersion method uses water to identify air bubbles.
When you find a leak, it must be fixed. Deflate and dry the mattress first. Patch kits have adhesive patches for holes. If no kit, use other alternatives. Make sure the patch sticks and it's completely dry.
Preventing leaks is important too. Don't overinflate, to avoid stressing seams. Clear sharp objects away from the mattress. Use bedding as a protective layer.
In conclusion: find and fix leaks for a comfy sleep.
Recommended options to consider for better sleep during camping trips
New research suggests several tips for better sleep on camping trips.
An air mattress is a great option, but it must be of high quality and properly inflated.
It is also wise to place a protective layer on top.
Keep the sleeping area clean and choose a level, clear spot.
Do regular maintenance checks and invest in a reliable patch kit.
Last, consider the overall durability and sturdiness of the mattress.
If these tips are followed, campers can enjoy a restful night's sleep in the great outdoors!
Some Facts About Air Mattress How to Find a Leak:
✅ There are multiple methods to find a leak in an air mattress, including the dish soap method and the submersion method. (Source: Team Research)
✅ Visual inspection and listening for escaping air are effective techniques to locate a leak in an air mattress. (Source: Venchas)
✅ Some methods involve using soapy water, tissue paper, or baby powder to identify the location of the leak. (Source: Eachnight.com)
✅ Overinflating the mattress or having sharp objects in the surroundings can lead to leaks in an air mattress. (Source: ChooseMattress.com)
✅ It is crucial to patch the hole carefully using appropriate materials and to avoid using corrosive substances. (Source: wikiHow)
FAQs about Air Mattress How To Find A Leak
FAQ 1: How can I find a hole in an air mattress?
To find a hole in an air mattress, there are several effective methods you can try:
Method 1: The Soapy Water Trick

Materials needed: bleach-free dish soap, sponge or rag, warm water, bucket or dish
Step 1: Fill the bucket with water and add dish soap to create soapy bubbles
Step 2: Inflate the mattress and wet the sponge. Wipe it over the mattress, applying pressure to look for bubbles
Step 3: Mark the leak for later patching

Method 2: The Tissue Paper Trick

Materials needed: tissue paper (or alternatives like foil, single-ply paper towels, toilet paper, or a napkin)
Step 1: Inflate the mattress and lay the tissue flat on the surface, applying pressure to direct air
Step 2: Slowly move the tissue over the mattress, looking for air disturbance or listening for a hissing sound
Step 3: Mark the leak if found

Other methods include the baby powder method and the submersion method
FAQ 2: Can I use other methods to find leaks in an air mattress?
Yes, there are additional methods you can try:
The baby powder method involves dumping baby powder on the mattress and slowly inflating it to reveal the leak
The submersion method requires partially inflating the mattress and submerging it underwater to force air bubbles out of the leak
FAQ 3: How do I patch up a hole in an air mattress?
To patch up a hole in an air mattress, follow these steps:
Deflate the mattress completely
Obtain a patch kit or use alternative materials like an old shower curtain, a tarp, or duct tape as a temporary fix
Clean the mattress surface thoroughly to ensure proper adhesion
Apply glue to the patch and press it firmly onto the leak
Allow the glue to dry completely before using the mattress
FAQ 4: Can I use a liquid patch to fix an air mattress hole?
Yes, you can try using a liquid patch, which is a sealant applied directly to the damaged area. Follow the product instructions for proper application and drying time.
FAQ 5: Are there any precautions I should take while finding a hole in an air mattress?
Yes, here are some precautions to keep in mind:
Avoid over-inflating the mattress, as it may result in larger holes or tears
Check the valve area and ensure the valve plug is completely inserted
Avoid using corrosive materials or alternatives to soap, as they can cause damage to the mattress
If the mattress has an attached electric pump, avoid using certain methods as suggested by the manufacturer
FAQ 6: What are the advantages of using an air mattress?
Using an air mattress has several advantages:
Easy to store and transport, making it ideal for camping or accommodating guests
Provides better sleep quality and spinal support compared to foam mattresses
Can be adjusted to different firmness levels to suit individual preferences
Offers a comfortable sleeping surface without the need for a regular bed