Key Takeaways:
Proper disposal of a memory foam mattress is important to avoid environmental contamination and promote recycling.
Before disposing of a memory foam mattress, clean and sanitize it and check the warranty and return policies for any potential options.
Options for disposal include donating the mattress to charitable organizations, recycling it at local mattress recycling centers, or creatively reusing it for cushions, pillows, or DIY projects.
When cutting the mattress for easier disposal, follow safety precautions and use appropriate tools. Consider supporting local recycling programs to reduce landfill waste and promote environmentally friendly disposal methods.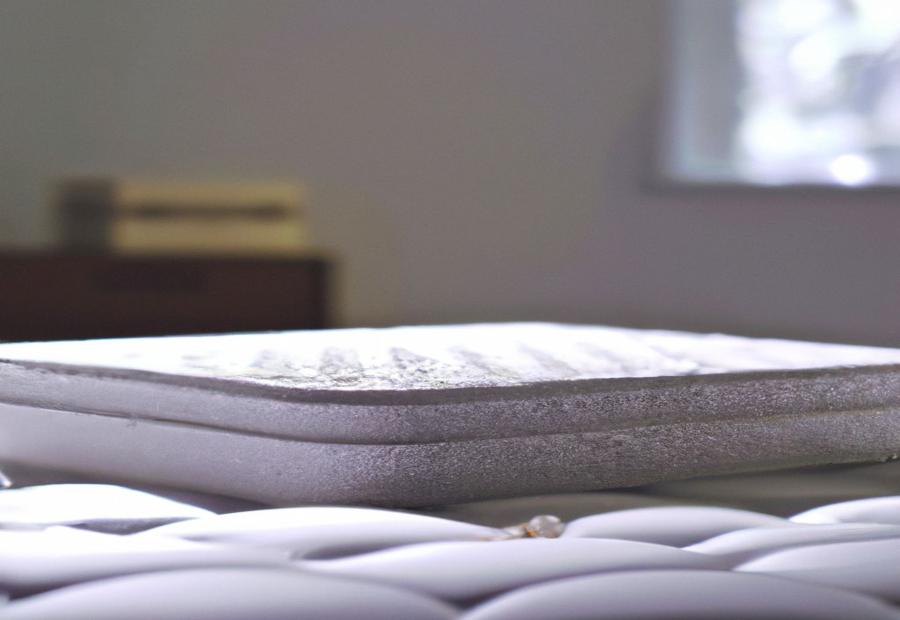 Photo Credits: Www.Mattressreviewguru.Com by Jonathan Baker
Improperly disposing of memory foam mattresses can have serious environmental implications. In this introduction, we'll explore the importance of proper disposal and the potential consequences of neglecting this crucial step. Emphasizing the need for responsible mattress disposal, we'll delve into the environmental impact, potential health risks, and sustainable alternatives. It's essential to understand the significance of this issue and why it should not be taken lightly.
Importance of Proper Disposal
Proper disposal of a memory foam mattress is essential. It helps maintain cleanliness and hygiene in your living space. It gets rid of dust, dirt, and allergens that could have built up over time. This is especially important for people with allergies or respiratory issues.
Plus, correct disposal means efficient use of resources. Memory foam mattresses are made from recyclable or repurposed materials. So, proper disposal reduces waste and promotes sustainability.
By disposing of your memory foam mattress responsibly, you create more space in your home and avoid clutter. Old mattresses can take up lots of room and make your living areas look messy.
Also, responsible disposal stops environmental pollution. If mattresses go into landfills, they decompose and produce greenhouse gases. To prevent this, recycle or donate your mattress.
It's crucial to think about all these factors when deciding how to dispose of a memory foam mattress. Proper disposal not only improves cleanliness and hygiene but also reduces allergens and dust accumulation. It promotes resource efficiency, prevents clutter, frees up space in homes, and helps minimize environmental pollution.
To ensure proper disposal of your memory foam mattress, find local charities that accept mattress donations or recycling centers that handle memory foam mattresses. These options are environmentally friendly and benefit others in need. Don't forget to take the steps to dispose of your memory foam mattress properly and make a positive impact on your environment and society.
When to Dispose of a Memory Foam Mattress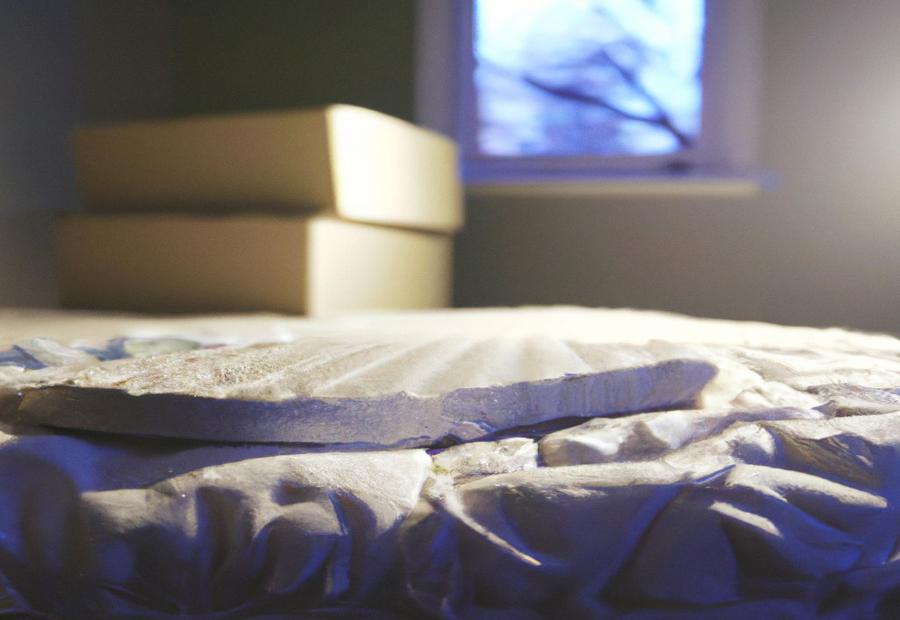 Photo Credits: Www.Mattressreviewguru.Com by Benjamin Sanchez
It's essential to consider a few things when it comes to disposing of a memory foam mattress. Generally, these mattresses last 7-10 years. If yours is close to that age, or has already exceeded it, you should think about getting rid of it. Also, if your mattress isn't giving you comfort and support anymore, it's time to replace it.
Check for signs of wear and tear. If the mattress has sagging or indentations that cannot be fixed, it's likely at the end of its life. Additionally, if you are experiencing discomfort or allergies because of it, and no other solution works, you may need to discard it.
There are eco-friendly ways to dispose of a memory foam mattress. Municipalities usually have special mattress recycling programs or places to drop off your mattress. You could also check with charities or organizations that take mattress donations. By doing this, you'll minimise the environmental impact.
Don't wait too long if your mattress isn't working for you anymore. Delay in disposing of it can affect your sleep quality and well-being. Take action now and explore the ways to responsibly get rid of your mattress. It'll help improve your sleep and benefit the planet.
Preparation for Disposal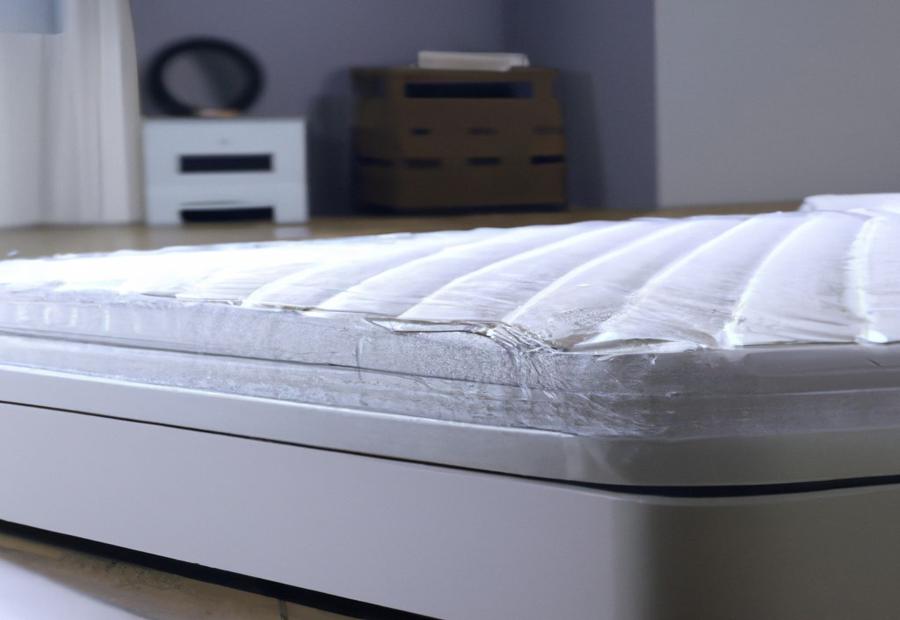 Photo Credits: Www.Mattressreviewguru.Com by Gregory Anderson
When it comes to disposing of a memory foam mattress, proper preparation is essential. In this section, we will discuss the necessary steps you need to take before getting rid of your mattress. From cleaning and sanitizing the mattress to understanding warranty and return policies, we'll ensure you're well-prepared for the disposal process. So let's dive in and make sure you're ready to bid farewell to your old memory foam mattress responsibly.
Cleaning and Sanitizing the Mattress
Cleanliness and sanitization of a memory foam mattress are essential when disposing of it. To keep healthy and avoid any health issues, it's essential to clean and sanitize the mattress correctly. Here are the steps:
Remove all bedding and linens (sheets, pillowcases, mattress protectors) from the mattress. Wash separately according to care instructions.
Vacuum the entire surface of the mattress to remove dust, debris, and allergens. Use a handheld vacuum or upholstery attachment to reach all areas.
Sanitize the mattress with fabric-safe disinfectant spray or solution. Cover the entire mattress evenly, and let it dry completely.
Check the manufacturer instructions or warranty for unique cleaning requirements. This will ensure warranty validity. After following these steps, your memory foam mattress will be free from dirt, allergens, and bacteria. You can now safely dispose of, or donate, the mattress.
Checking Warranty and Return Policies
Understand warranty and return policies before disposing of a memory foam mattress. Familiarizing yourself with these policies is essential for a stress-free disposal process.
Check Warranty Coverage: Read the warranty document or contact the manufacturer to understand coverage and details of your mattress.
Evaluate Return Policy: Research and assess the store's return policy where you bought the mattress. Some stores offer a trial period and you can return it if not satisfied.
Donate: If return/exchange is not possible, some charitable organizations accept gently used memory foam mattresses as donations. Research local charities and inquire about their acceptance criteria.
Be mindful that warranty and return policies differ from manufacturer to manufacturer. Review your documentation or get in touch with customer service representatives for clarity. By considering warranty coverage, evaluating return policies, and exploring donation possibilities, you can make the right call for your mattress disposal.
Options for Disposing of a Memory Foam Mattress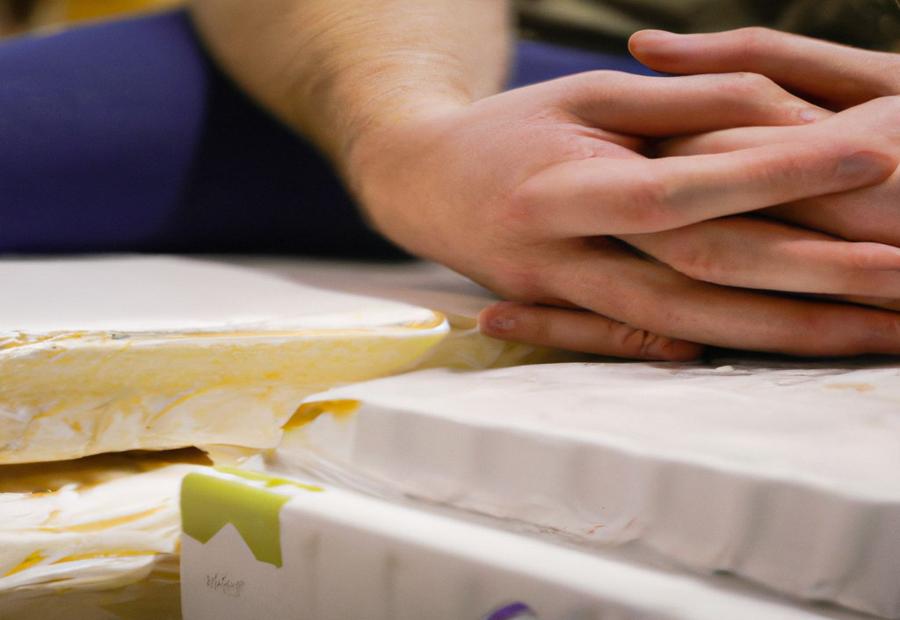 Photo Credits: Www.Mattressreviewguru.Com by Lawrence Moore
When it comes to disposing of a memory foam mattress, there are a few options worth considering. You can donate it to charitable organizations, recycle the mattress, or explore creative ways to repurpose the memory foam. Each sub-section will shed light on the benefits and possibilities associated with these different approaches. So, let's explore the options available for responsibly parting ways with your memory foam mattress.
Donation to Charitable Organizations
Donating a memory foam mattress to charities can be a thoughtful contribution. Before deciding to donate, do your research and find reputable organizations that focus on helping those in need of bedding. Ensure that the mattress is in good condition, clean, and gently used. Cleaning and sanitizing the mattress before donating is highly recommended. Additionally, explore other disposal options, such as recycling or repurposing, for an environmentally friendly option.
Researching Local Charities Accepting Mattress Donations
Researching local charities which accept mattress donations is an essential part of responsibly disposing a memory foam mattress. Look for charitable organizations in your area that accept mattress donations. This way, you can be sure your mattress will be of use instead of ending up in a landfill.
Check any specific requirements or guidelines they may have for accepting mattress donations. This could include the condition of the mattress or the need for prior cleaning. Make sure you look into the donation policies of each organization to make sure it fits your needs and preferences.
Donating your mattress to charitable organizations could give you certain benefits. For example, some charities may offer tax incentives or other advantages in return for your donation. It's worth exploring these aspects too.
Prioritize reputable charities that have a history of efficiently distributing donated mattresses to those in need when choosing a charity to donate to. This ensures that your mattress will have the best effect.
By researching local charities accepting mattress donations, you are showing you are committed to responsible disposal practices, and also helping those less fortunate. By finding reputable charities and understanding their requirements and policies, you can make sure your memory foam mattress finds a new home where it can keep providing comfort and support.
Before donating your mattress, remember to check if it's haunted by the ghosts of restless sleepers!
Ensuring Mattress Condition for Donation
Ensuring Quality of Mattress for Donation:
Donating a memory foam mattress? Ensure its condition meets charitable orgs' requirements. Check various factors such as cleanliness, structural integrity, and hygiene. This guarantees the mattress is useful and safe for those in need.
Cleanliness: Thoroughly clean and sanitize. Remove any stains, odors, and dirt. Use appropriate cleaning products and techniques to maintain quality.
Structural Integrity: Examine the condition. Look for signs of sagging or damage. Uneven surfaces or weakened support may not provide adequate comfort and support.
Hygiene: Consider hygiene. No bedbugs, dust mites, or pests on or in the mattress. Prevents potential health hazards and complaints.
Mattress Age: Not definitive, but consider age. Older mattresses may have worn-out materials and decreased performance with extended use.
Quality Standards: Familiarize with any standards set by charitable orgs. May vary by region and org policies.
Check these factors when donating a memory foam mattress. Your contribution will benefit others and promote sustainable consumption in the community. Recycling a mattress – sleeping on a bed of recycled dreams!
Recycling the Memory Foam Mattress
Recycling Memory Foam Mattresses: A 3-Step Guide.
First, find a local mattress recycling center that takes memory foam mattresses. They have the right tools and knowledge to handle the mattress in an eco-friendly way. This involves separating, processing, and reusing the components.
Second, understand the recycling process for memory foam. At the center, the mattress is broken down. The foam is shredded into smaller pieces and cleaned. Then, it's used as raw material for items like underlay carpets and furniture cushions.
Finally, get rid of any parts that can't be recycled. This includes metal springs and wooden frames. Ask your local waste management center for advice on disposing these items.
Recycling doesn't just reduce landfill waste, it also conserves resources by reusing materials instead of creating new ones. Before recycling, consider creative reuse options like turning the mattress into cushions, pillows, or pet beds. This adds value and cuts down on waste even more.
Finding Local Mattress Recycling Centers
To get rid of a memory foam mattress in an eco-friendly way, you must first find a local mattress recycling center.
Look into directories or databases dedicated to recycling facilities.
Ask waste management companies or local government agencies.
Furniture stores and mattress retailers might have info on recycling options.
Call the center before you take your mattress there to be sure they will accept it.
Understand the requirements of each facility.
Some may require you to drop off the mattress, while others may charge for pickup services.
Knowing these details will make the process easy.
Understanding the Recycling Process for Memory Foam
Recycling memory foam is key for proper disposal and reducing waste. Firstly, find local mattress recycling centers that accept memory foam mattresses. The centers have the necessary equipment and knowledge.
At the recycling center, the mattress components are separated: foam, fabric, metal springs (if any). This allows each component to be recycled properly.
Memory foam is shredded into pieces or granules using specialized machinery. This makes handling and transportation easier.
After shredding, the memory foam undergoes a cleaning process. This removes dirt, stains, and odors. So the recycled foam is clean and can be re-used.
Recycled memory foam has many uses. It can be used as cushion, pillow, or pet bed filling. It's also great for DIY projects.
Understanding the recycling process for memory foam helps us properly dispose old mattresses. Recycling instead of sending them to landfill sites benefits the environment and reduces waste.
Creative Reuse of Memory Foam
Reuse of memory foam? Let's take action! Find alternative purposes for the material after it's no longer needed as a mattress. A sustainable and creative way to extend its lifespan, and prevent landing in landfills.
1. Research Potential Uses:
Look for cushions, pillows or pet beds made from memory foam.
Cut and reshape memory foam into different forms.
Innovative ideas? Use it for art installations or craft unique home decor pieces.
2. Collect and Prepare Materials:
Gather additional materials like fabric or cushioning.
Clean memory foam before use.
Cut it to desired size and shape.
3. Create New Items:
Comfy cushions or pillows for seating areas or outdoor furniture.
Cozy pet beds with memory foam filling.
Add extra support or padding to existing furniture or accessories.
4. Share Ideas and Inspire:
Share ideas on social media or online forums.
Collaborate with local artists or designers on projects with recycled materials.
Spread awareness about the benefits of reusing materials.
Turn your old mattress into something special! Memory foam shouldn't just be a memory. Reuse it and reduce environmental impact, all while enjoying unique creations.
Repurposing Memory Foam for Cushions, Pillows, or Pet Beds
Why not repurpose memory foam for a unique DIY project? It's great for cushions, pillows, pet beds, and more. Memory foam conforms to your body's shape, creating ergonomic seating options and relieving pressure points. Plus, it can be used as upholstery padding for furniture and soundproofing panels for recording studios. Repurposing memory foam promotes sustainability and reduces waste generation. So, if you're feeling crafty, get creative and enjoy the benefits of comfort, support, and sustainability that memory foam provides!
DIY Projects Using Memory Foam
Did you know old memory foam mattresses can be reworked into DIY projects? Reusing memory foam can help create cushions, pillows, or pet beds. This reduces waste and gives your mattress a second life.
Check out these awesome DIY projects with memory foam:
| Project | Description |
| --- | --- |
| Cushions | Cut memory foam to size and cover with fabric for comfy cushions. |
| Pillows | Cut memory foam into rectangles and put in pillowcases for custom pillows. |
| Pet Beds | Cut the mattress to fit your pet and cover with pet-friendly fabric. |
DIY projects with memory foam are cheap and eco-friendly. Plus, you can customize your home decor!
Pro Tip: Clean and sanitize memory foam before any project to maintain hygiene.
Proper Disposal Techniques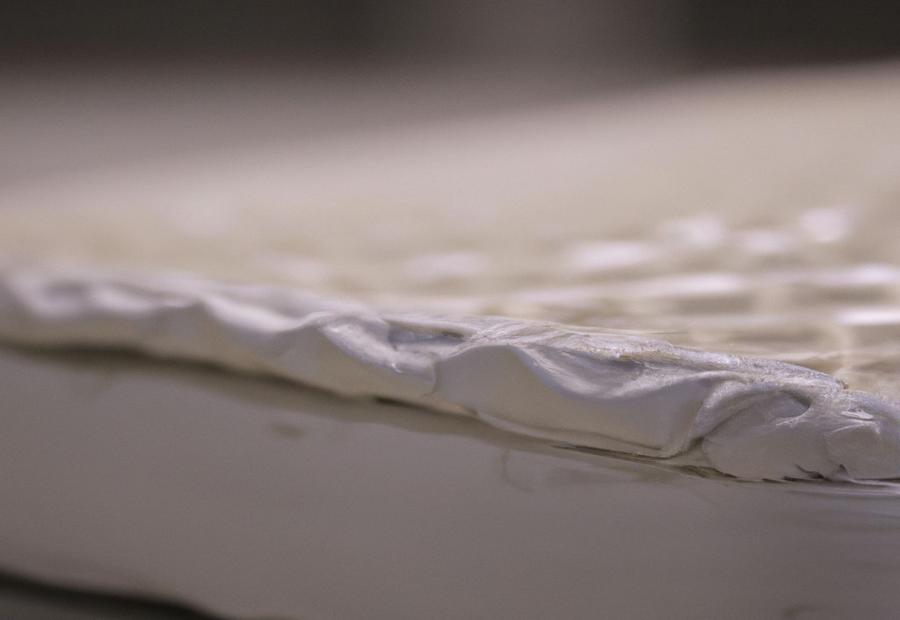 Photo Credits: Www.Mattressreviewguru.Com by Jose Johnson
Proper disposal techniques for a memory foam mattress are essential to minimize environmental impact and ensure safety. Discover how cutting a memory foam mattress can make disposal easier, along with the necessary safety precautions and tools required. By following these guidelines, you can appropriately dispose of your old memory foam mattress while being mindful of sustainability and responsible waste management.
Cutting a Memory Foam Mattress for Easier Disposal
Get the right tools – Gather a sharp utility knife or electric carving knife to cut through the dense material.
Measure and mark – Identify how big each section should be and mark them.
Cut along the lines – Carefully cut along the marked lines with the tool. Be aware of any springs or inner structures that can pose a risk.
Dispose – Once the mattress is cut, dispose of each piece according to local regulations.
Safety is important when cutting memory foam. Wear protective gloves and eye goggles to avoid injuries. Think of the environment while disposing of the mattress.
It is also important to recycle or repurpose the mattress to reduce landfill waste. Support local recycling initiatives and find dedicated mattress recycling centers. This can help with sustainability efforts in your community.
Safety Precautions and Tools Needed
To safely dispose of a memory foam mattress, take safety precautions and have the right tools. This can help stop accidents and make the job more efficient.
Steps:
Wear protective gear, like gloves and safety glasses. This will guard against possible hazards, like sharp objects or dust.
Make sure the area is clear and well-ventilated. This reduces the risk of accidents and provides a safe working environment.
Use the right tools. A utility knife or scissors to cut the fabric cover, pliers for removing staples or nails, and a saw or box cutter for the foam layers. Have these ready to make the task easier and safer.
Be careful when using the tools and follow the manufacturer's instructions. And take breaks to avoid fatigue.
Unique Details:
Work slowly and carefully to avoid hurting yourself or others. Take frequent breaks and dispose of any leftover foam pieces properly. Bag them in heavy-duty trash bags before putting them in the waste bin.
Suggestions:
Get another person to help with the disassembling and disposing.
Have a first aid kit ready in case of injuries.
Follow these safety precautions and use the needed tools to safely dispose of a memory foam mattress.
Considerations for Environmentally Friendly Disposal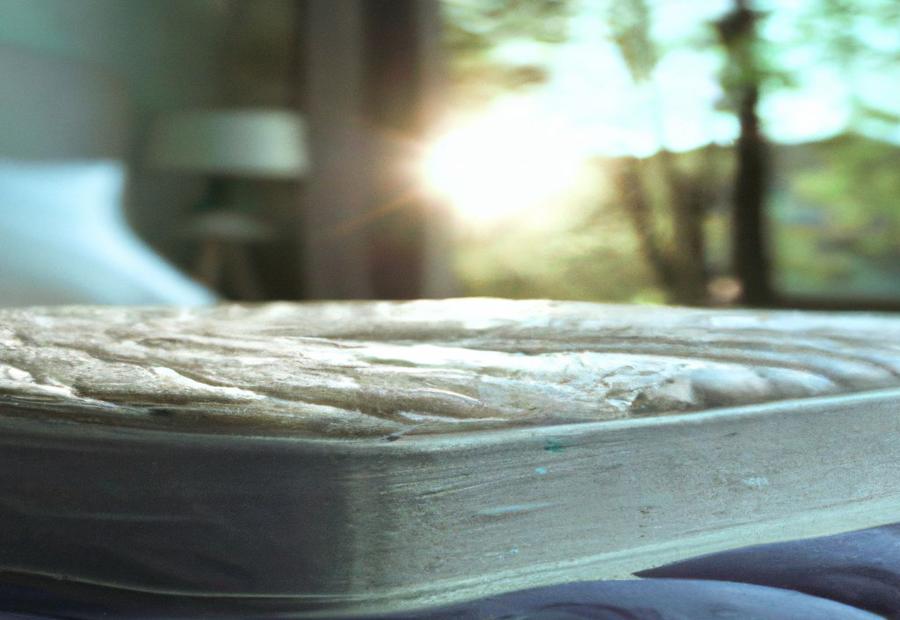 Photo Credits: Www.Mattressreviewguru.Com by Willie Jones
When it comes to disposing of memory foam mattresses, considering environmentally friendly options is crucial. In this section, we'll explore how recycling can make a significant impact on reducing landfill waste. We'll also shed light on supporting local recycling programs and the positive effects they have on our environment.
Recycling and Its Impact on Reducing Landfill Waste
Recycling memory foam mattresses can have a major impact on cutting down on landfill waste. These mattresses are huge and occupy a lot of landfill space, leading to environmental problems. By recycling them, the materials can be reused and not take up space in landfills.
Not only does recycling these mattresses help with waste, but it also conserves resources. The mattress is taken apart into its different components: foam, fabric, and metal springs. These pieces can then be used again or made into something new, avoiding the need for producing raw materials.
To make sure memory foam mattresses are recycled properly, it's important to find recycling centers that accept them. These centers have machines and processes that break down the mattress parts, and separate them to be re-used or recycled. By using these recycling facilities, you can help reduce landfill waste and be part of environmental sustainability.
A study found that recycling one memory foam mattress can save about X cubic feet of landfill space. This shows the massive effect proper disposal, like recycling, has on decreasing landfill waste and preserving our environment.
By taking part in local recycling programs, you can do your bit to help the planet. Just make sure they take more than just your old mixtapes!
Supporting Local Recycling Programs
Backing local recycling programs is a must for the right disposal of memory foam mattresses. Taking part in these programs helps reduce landfill waste and encourages a better environment. Disposal centers created just for mattress recycling are key for ensuring the memory foam is recycled correctly.
Recycling memory foam mattresses involves various steps. Dismantling, dividing different materials, then recycling them. The memory foam can be broken into small bits and reused in things like carpet padding and insulation. Helping local recycling programs prevents a lot of memory foam from being dumped in landfills. This saves space and protects the environment.
Local recycling programs have many positive effects on the community. They create work opportunities for those collecting, transporting, and processing mattresses. Plus, they benefit the local economy by growing the recycling industry and bringing in investments in sustainable practices.
Supporting local recycling programs encourages creativity and research to find ways to more efficiently recycle memory foam mattresses. As technology advances, these programs are used to try and implement these advancements. By getting involved in these activities, individuals help to drive change in waste management practices for a greener future.
Conclusion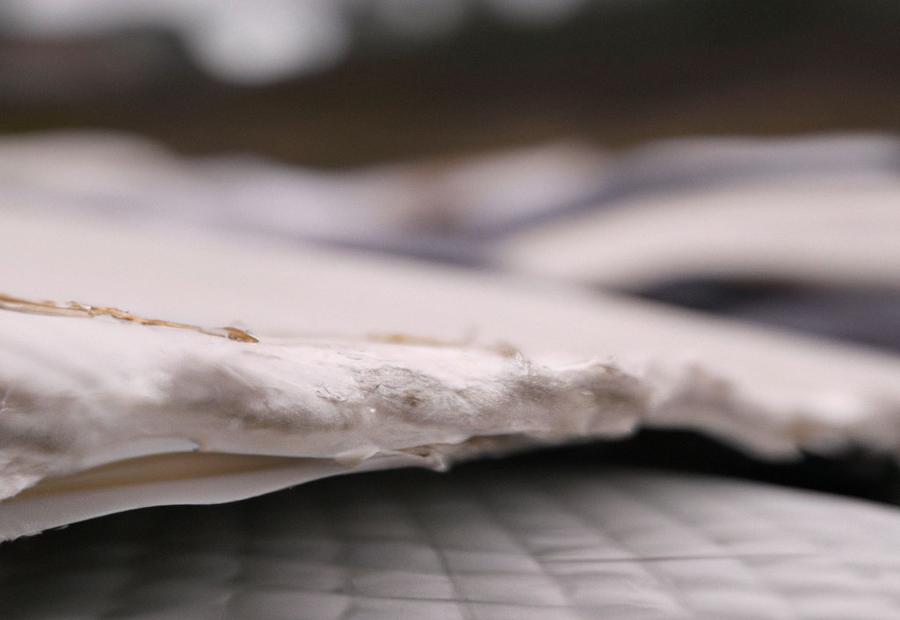 Photo Credits: Www.Mattressreviewguru.Com by Albert Jackson
Memory foam mattresses are comfortable and supportive, so they are a popular choice. When it's time to dispose of one, it's important to be environmentally responsible. Recycling is an option as memory foam is recyclable. Many centers and manufacturers offer programs for this. Donating to a charity or organization in need is another option. This allows the mattress to be reused and is sustainable.
To prepare for disposal, clean the mattress and remove any bedding or accessories. Check local waste management facilities or recycling centers for any specific instructions. This will help ensure it doesn't end up in a landfill, harming the environment.
When disposing, consider the environmental impact. Recycling or donating will reduce waste and promote sustainability. Recycling helps reduce the demand for new materials and contributes to a circular economy. Donating allows the mattress to be used by someone in need.
Research local waste management facilities for instructions on how to dispose of a memory foam mattress. Follow these guidelines to ensure it is done in the most environmentally responsible way.
Some Facts About How to Dispose of Memory Foam Mattress:
✅ Disposing of an old mattress topper in the trash is not environmentally friendly and may be against city ordinance. (Source: Team Research)
✅ Mattress toppers made of memory foam and polyurethane foam release harmful chemicals when decomposing in landfills, negatively impacting the environment. (Source: Team Research)
✅ Recycling or repurposing old memory foam mattress toppers is important to minimize waste. (Source: Team Research)
✅ Recycling centers and local programs accept foam mattress toppers for recycling. (Source: Team Research)
✅ Contacting local Board of Health or Health Department can provide information on mattress recycling programs. (Source: Team Research)
FAQs about How To Dispose Of Memory Foam Mattress
How do I dispose of a memory foam mattress?
When it comes to disposing of a memory foam mattress, there are several options you can consider:
Recycling: Check if your community has a recycling program specifically for memory foam. This is an eco-friendly option that helps reduce waste.
Local Disposal Facility: Look for a disposal facility near you that accepts mattress components for proper and environmentally friendly disposal.
Donation: Consider donating your memory foam mattress to local charities or organizations like Goodwill and Salvation Army.
Repurposing: Explore creative reuse options for your old mattress, such as using the foam for DIY projects like pillows or seat cushions.
What are the signs that indicate I need a new mattress?
There are several signs that may indicate it's time to replace your mattress:
Waking up feeling sore or achy
An uneven or saggy mattress
Feeling what's underneath the mattress
Tossing and turning all night
Sleeping better in a different bed
Experiencing allergies or asthma symptoms
Can I cut up a memory foam mattress for disposal myself?
Yes, you can cut up a memory foam mattress for disposal by following these steps:
Remove the mattress cover using heavy-duty scissors
Carefully cut the foam layers with a sharp or electric knife, making sure to maintain a low angle to avoid damaging the foam
If available, use a saw like a table saw, jigsaw, or circular saw to cut the mattress into pieces
Are there any safety measures I should take when cutting a memory foam mattress?
Yes, it's important to prioritize safety when cutting a memory foam mattress. Remember to:
Wear protective gloves and a mask to avoid accidents or injuries
Use sharp tools like a knife or saw with caution and make short back and forth cutting motions
Work on a stable surface and secure the mattress to prevent movement during the cutting process
What should I do with the mattress cover when cutting up a memory foam mattress?
You can remove the mattress cover separately before cutting up the memory foam mattress. The cover can be disposed of according to your local guidelines or repurposed for other uses.
Where can I donate a memory foam mattress?
If your memory foam mattress is still in good condition, you may consider donating it to local charities or organizations. Some options include Goodwill, Salvation Army, or other second-hand stores in your area. Make sure to contact them beforehand to inquire about their donation policies and requirements.